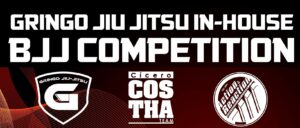 Gringo Jiu Jitsu In-House Tournament is BACK!!!
REGISTRATION IS CLOSED! We will post schedule and brackets soon!
November 20th (starts at 2:00 pm) – Juniors (16+ yrs old), Adults and Masters
November 21st (starts at 10:00 am) – Kids, Youth and Teens (4 to 15 yrs old)
Location: Action & Reaction MMA – PICKERING ( 821, Brock Rd)
InHouse tournaments are a great way to test your skills and get you ready to bigger competitions.
All Jiu Jitsu Practioners are welcomed to attend the tournament. PRE-REGISTRATION ONLY.
All divisions are Round Robin or Double Elimination! if you have any questions, please email info.mataleao@gmail.com