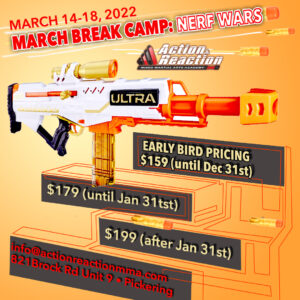 YOUR CHILD WILL LOVE OUR CAMP PROGRAM!
Children have a TON of energy and as a parent, finding the right camp program can be difficult. With so many options out there, how do you choose the right one?
Simple! The right answer is Action & Reaction Camps! Our March Break Programs not only offer THE BEST camp program in Pickering – it offers your child a week of FUN, MEMORIES and NEW FRIENDS!
Your child will build confidence through our martial arts programming, have BLAST playing fun games such as Dodgeball or the Octopus, and enjoy amazing FIELD TRIPS.
As a parent, you will have peace of mind knowing your child is in safe hands with a WORLD CLASS TEAM!
Our March Break Camp is designed to keep your child busy! Best of all, it is ELECTRONIC FREE, which will keep your child up, moving and having FUN!
Campers will participate in daily martial arts classes. Don't have any martial arts experience? No problem! Your child will be introduced to the basics of Jiu Jitsu, Wrestling, Judo and Boxing!
Just wait until you see the excitement on their face!
This March Break Camp Theme is N E R F  W A R S!!!
Camp is suitable for kids from 4 to 12 yrs old. Camp runs from 9:00 am to 4:00 pm.
Drop-In Time between 8:30-9:00 am  / Pick Up Time between 4:00-4:30 pm.
Do not wait until last minute to register your child! Spaces are limited!!!
REGISTRATION FORM