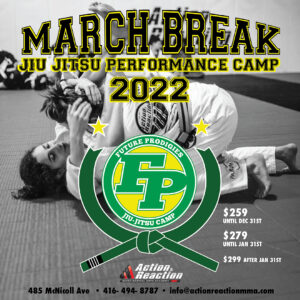 Action & Reaction MMA And Future Prodigies present "March Break Jiu Jitsu Performance Camp"
This training camp is suitable for any Jiu Jitsu Practitioner from 8 to 16 yrs old that is looking for improving skills and excel in the art of Jiu Jitsu.
There will be 4 Jiu Jitsu / Grappling Classes daily. Our main instructors are Fernando Zulick and Kevin Wheeler.
Location: Action & Reaction MMA – 485 McNicoll Ave, Toronto
Date: March 14th to March 18th 2022
Time: 9:00 am to 3:30 pm
Training Camp is open to All affiliations and teams.
REGISTRATION FORM